BBC News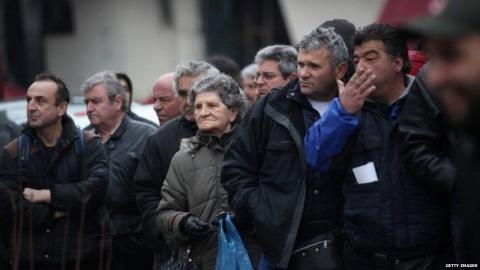 Greek debt crisis triggers memories of World War Two
By Jasmine Coleman
BBC News, Greece
9 July 2015
Initially I did not think much of it.
"We want democracy, we don't want war," said Lila Stylianou, a music professor, as we chatted in the port area of Piraeus following Sunday's referendum.
People filled cafes along Marina Zea as the sun went down, eating ice creams and drinking beer.
This did not look like a community fearing imminent conflict.
'Ready for starvation'
But in the past week, as Prime Minister Alexis Tsipras continued in his "fight" to secure a better bailout deal for Greece, reference to war is something I have heard from almost everyone I have spoken to.
"We are ready for starvation. We are not ready for war," said Flora, a 66-year-old pharmacy assistant in Piraeus who told me about dangerous shortages in medical supplies.
Meanwhile in the wealthy suburb of Kifissia, in northern Athens, I met one shopper who moved to Greece after fleeing conflict in Lebanon.
"You leave your country to be away from war and then you find yourself here," she complained.
"It is like war without the bombing."
People say they are not sleeping properly. They follow the latest updates on radios and televisions. They queue up every day to withdraw just €60 (£43; $66) in cash.
'Everyone on edge'
Meanwhile, the European Commission has raised the possibility of humanitarian aid for Greece if no deal is reached - something usually reserved for war zones.
Stathis Gourgouris, a writer and political philosopher, says it is no exaggeration so compare life here to a "war without bombs".
"Events are moving with extraordinary speed," he says. "Everyone is on edge."
He points to the rapid decline in wealth in the country over the past five years. Before the country was bailed out in April 2010, unemployment stood at 11.8% - it is now more than 25%.
This "phenomenon of flash impoverishment" is more akin to the conditions of conflict, Mr Gourgouris says.
Of course, not everyone here - or across Europe - sees the situation in quite such literal terms.
"Not everyone uses war metaphors these days. I don't," says historian Efi Avdela.
But the notion of war still permeates many conversations.
In the fertile region around Markopoulo, in east Attica, I stood with wine maker Vassilis Papagiannakos looking out across acres of vines, olive trees and pistachios.
Uncomfortably close
I have seen no sign of food shortages here so far.
But Mr Papagiannokos shuddered when I suggested that - in the worse-case scenario - this area had plenty of fresh produce to go around. He described the idea as a "nightmare".
It reminded him of what his father told him about World War Two, he said, when Nazi-occupied Greece suffered mass starvation and emaciated bodies were commonplace in the streets of Athens.
Indeed the memory of war feels uncomfortably close in Greece - and seems to be affecting people's responses to the economic crisis.
"Memories of occupation are very strong," says Prof Gourgouris.
"There are people still alive who lived through it, and others are told by parents and grandparents what it was like.
"It was a gruesome time - and the civil war that followed afterwards was a very traumatic event."
Anthropologist Neni Panourgia says Greece never had a "post-war" period. After the end of World War Two, Greece suffered a bloody civil war and military dictatorship before joining the European Union in 1981.
"The years of normal life before the EU were few," says Prof Panourgia.
Greece's left-wing Syriza government has made much reference to the country's darker days since taking power in January.
Alexis Tsipras' first gesture as prime minister was a visit to a monument honouring Greek communists executed by Nazi occupation forces in 1944.
'Economic war'
For a man whose political life began as a communist, the visit was heavy with symbolism, also because Germany holds more Greek debt than any other Eurozone state and Greece is still seeking reparations for the Nazi occupation.
"The Germans want to control all of Europe," one cafe owner tells me. "It's economic war."
The long history between Greece and Germany means some people - in both countries - have responded to the fiscal deadlock in "cultural terms", says Prof Gourgouris.
Meanwhile Prof Panourgia says Germany is now seen as a hindrance to Greece's interests in the debt talks.
"While the Italians, French, Belgians and the IMF talk about being willing to accept some debt relief... the Germans are seen as the impediment," she says.
Former Greek Finance Minister Yanis Varoufakis last month said the country's international creditors had turned the negotiations "into a war".
And Mr Tsipras' talks with Russian President Vladimir Putin have put some Greeks on alert.
Whether negotiating tactics or serious suggestions, these moves put the Greek debt crisis onto the geo-political map.
"Greece has always been a very small country with little power but extraordinary significance because of its geographical location - between Europe and the Middle East," says Prof Gourgouris.
And people here seem very aware of this.
When I asked Flora, at the pharmacy in Piraeus, whether she seriously
eared that Greece could come under attack, she said: "I think this will end in war because of the location of Greece."
Others questioned how the Mediterranean migrant crisis, the intentions of President Racep Tayyip Erdogan in neighbouring Turkey, and growing Islamic militancy in the Middle East could affect a struggling country.
But most people I spoke to said they did not believe real war would break out.
The "war without bombs" slogan is merely a useful metaphor for people who refuse to let their frustration go ignored.
They say the current debt deadlock is the latest crisis in a bumpy history which is still alive today.

______________________________________________________________________________________________
https://www.bbc.com/news/blogs-eu-33467931
And in Spanish:

https://www.bbc.com/mundo/noticias/2015/07/150710_grecia_deuda_crisis_segunda_guerra_mundial_mr